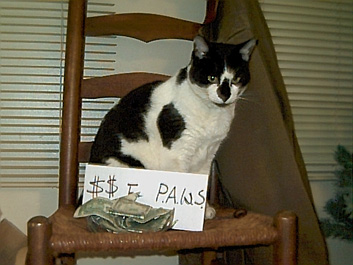 Why Should You Send Me Money?
All right, I've gotta come clean with you nice people. I don't really need money myself. I'm a lucky guy: My Human is comfortable enough financially to keep me in kibble and collars as long as I live.
However: Chris Kent, my Human, is on the board of Pets are Wonderful Support, a San Francisco non-profit that helps low-income people with AIDS and other disabling illnesses keep their pets. PAWS supplies these people and their pets with donated pet food and vet care; if they're too sick to properly care for their pets, volunteers help walk dogs, groom cats, and so on.
Without the help of PAWS, these folks might lose the wonderful companionship of their pets. Since people with AIDS or other debilitating illnesses may become isolated from family and friends -- or may be coping with painful medical treatments -- the company of a pet can make a world of difference.
The Human needs to meet her fundraising goals for PAWS -- and that's where you come in:
Did this Web site make you chuckle? Did you get a kick out of the pictures?
Have you ever enjoyed the company of a pet when you've been sick, depressed, or simply had a bad day?
If so, I hope you'll agree that PAWS deserves a few dollars. If 1,000 people each give $2, PAWS will have two grand. Not too shabby. Here's how to donate:
Want to send a check, or have questions about donating directly to PAWS? E-mail the Human.
PLEASE FORWARD THIS SITE TO YOUR FRIENDS!!! And thank you so much.